---
CUSTOM INSTALLS ARE OUR STANDARD INSTALL

Pro Unique

With full system drawers as an option you are sure to configure a SET. You can look at what previous customer have purchased. Or get in touch with the team to arrange a custom configuration to suit you and the way you work. These units are the perfect Future proof systems. Simply add drawers, trays or power tool boxes to any shelf.
The Pro Unique Wooden Van Racking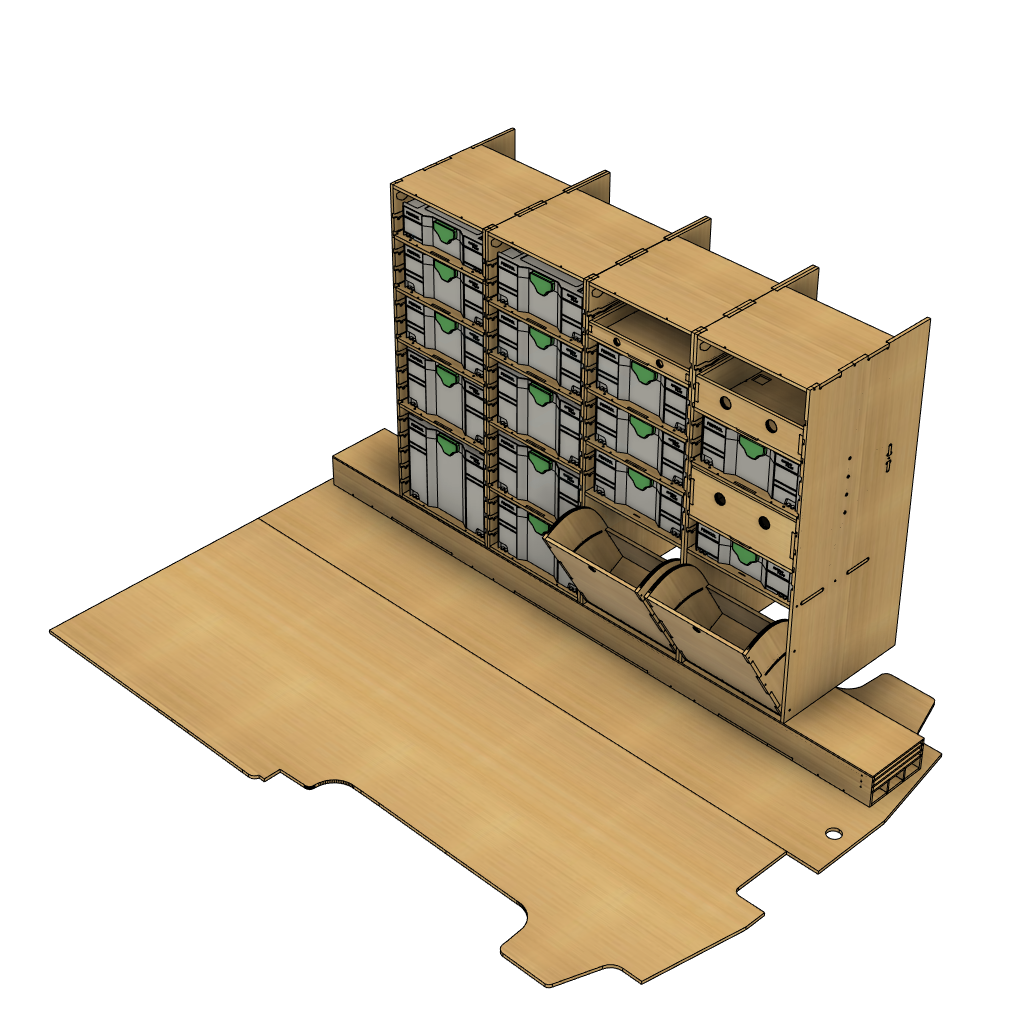 Product features
Pro Unique Range - Future-Proof Van Racking Solution
Product Description: Looking for a more detailed description check out the drop down tab on the right hand side.
Unleash the full potential of your work van organisation with the Pro Unique Range. This system is designed to cater to the evolving needs of trade professionals, offering unbeatable customisation, upgrade options, and end-to-end support.
Key Features/Option:
Limitless Customisation: With the Pro Unique Range, you can add drawers anywhere in the system, ensuring every tool and part has its place. Achieve ultimate organisation, tailored to your unique needs.
Enhanced Catch Options: Choose between standard pull catches in black or upgrade to satin chrome. Secure your tools with style and convenience.
Slim Depth Units: Save valuable space with slim-depth unit options. These units are designed to maximise your storage capacity without sacrificing room in your van.
End Unit Storage: Make the most of your install length by adding end unit storage. It's a smart way to optimise your workspace.
Personalised Support: We offer one-to-one support tailored to your specific requirements. Connect with us via phone or send photos through our communication links on our site for a customised experience.
3D Design Renders:

After discussions and consultations, enjoy the added benefit of a 3D design render of your customised solution. Visualise your van's organisation before it becomes a reality.
Who Is It For? The Pro Unique Range is ideal for discerning trade professionals who demand unparalleled organisation and efficiency in their mobile workspace. Whether you're a contractor, plumber, electrician, builder, joiner, or just have a love for organisation, this van racking solution will elevate your work to new heights.
Experience Pro Unique Range: Invest in the Pro Unique Range and future-proof your van organisation. Say goodbye to clutter and hello to unmatched productivity. Elevate your van, elevate your work – choose the Pro Unique Range today.