Guide Rail Level Box
---
Guide Rail Level Box - (STBR) Type R is backordered and will ship as soon as it is back in stock.
---
Couldn't load pickup availability
Manufactured in 12mm saving weight, saving fuel. Lightweight yet strong.
In stock items will get booked on within 48 hours for delivery.

One of the team will call to discuss delivery options with In 24 hours.

Pre order item may have a lead time of 7-10 days or sooner.
Adjustability at your finger tips
Ready to reconfigure for that new tool.
Rail box sides and bottom are made from 9mm, internals and top are made from 6mm birch ply.

(CUSLRB) Custom rail box sizes must not exceed 260mm x 140

(CUSRB300) custom rail box sizes must be no larger than 300x 300

ALL RAIL BOXES ARE MADE TO 2400mm unless otherwise stated. 
Payment & Security
Payment methods
Your payment information is processed securely. We do not store credit card details nor have access to your credit card information.
Pro Unique SH3 Product features
Shown below is our 1500 tall Pro Unique check out what this has to offer as standard. To check a system range this will be under the product drop-down Product Range. Remember all SH3 parts can be added to any install, just remember to buy the drawer base also for any SH1 or SH2 install.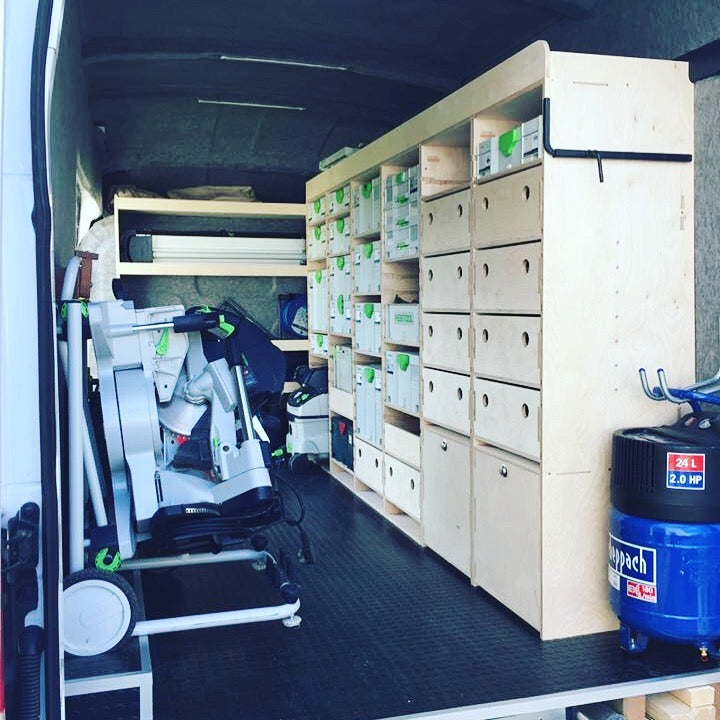 Learn more about the range differences. Depending on your storage needs we are sure to have you covered.
A table comparing the facets of 4 products

Facet

Concept

View details

Unique

View details

Pro Unique

View details

The Unlimited Range Booking

View details

Designer

Designer
Concept
Unique
Pro Unique
Custom Solutions UK

Price

Price

$1,063.00 $1,153.00

Unavailable

Description

Description

Concept Range - Van Racking Solution

Product Description: The Concept Range offers practical van racking solutions for trade professionals. It provides customisable options, durable shelving, for organised tool storage. Easy to install and safety-focused, it suits contractors, plumbers, electricians, builders, and craftsmen seeking efficient mobile workspaces.

Who Is It For? Designed for trade professionals looking to streamline tool organisation in their work vans.

Experience Concept Range: Simplify your work van organisation with the Concept Range. Stay organised and save time on the job.

Product Limitations: The Concept Range offers fantastic versatility, but it's important to understand its limitations. This range provides standard tops, meaning it doesn't come with rail level storage as standard. However, it's designed to accommodate power tool boxes and other essential equipment. There are three height options and five width options, which makes it adaptable for various van sizes and requirements. While it doesn't feature specialised catches & just a pull hole, a standard push-button catch is available as an option for added security and convenience.

Unique Range - Van Racking Solution

Product Description: Elevate your van organisation to a whole new level with our Unique Range van racking solution. Designed to meet the demands of modern trade professionals, this innovative system redefines efficiency and convenience in your mobile workspace.

Key Features:

Customisation at Its Best: The Unique Range offers a level of customisation that's unmatched. Tailor your van's interior to your precise needs, ensuring every tool and part has a dedicated space.
Enhanced Catch Options: The Unique Range comes with the choice to upgrade to pull catches, providing wheel arch tilt storage while allowing for quick and easy access. Simple purchase the upgrade catches when purchasing this set and we will make sure they fit your install giving it a unique look.
Flat Tops and Level Storage: Keep your van organised with flat top units and level, rail, and pipe storage boxes. These unique features make it easy to optimise your space. These boxes can also sit on the bottom on standard top units.
Power Tools Storage as Standard: Storing power tools is standard with the Unique Range. You'll have a dedicated place for your essential equipment. gaining access to any tool any time at first touch. Saving time and making money day after day. This is sure to be the wise investment you have been looking for.
Looking for drawers: This is a starting point for drawers with drawer stacks available, and mix and match drawers to suit your needs. Or add drawers later for more configurations.

Who Is It For? The Unique Range is ideal for trade professionals, contractors, and anyone in need of an efficient and organised mobile workspace. Whether you're a plumber, electrician, Joiner, builder, or hobbyiest, this van racking solution will revolutionise the way you work.

Experience Unique Range: Invest in the Unique Range and experience the future of van organisation. Say goodbye to wasted time searching for tools and hello to enhanced productivity. Elevate your van, elevate your work – choose the Unique Range today.

Pro Unique Range - Future-Proof Van Racking Solution

Product Description: Looking for a more detailed description check out the drop down tab on the right hand side.

Unleash the full potential of your work van organisation with the Pro Unique Range. This system is designed to cater to the evolving needs of trade professionals, offering unbeatable customisation, upgrade options, and end-to-end support.

Key Features/Option:

Limitless Customisation: With the Pro Unique Range, you can add drawers anywhere in the system, ensuring every tool and part has its place. Achieve ultimate organisation, tailored to your unique needs.
Enhanced Catch Options: Choose between standard pull catches in black or upgrade to satin chrome. Secure your tools with style and convenience.
Slim Depth Units: Save valuable space with slim-depth unit options. These units are designed to maximise your storage capacity without sacrificing room in your van.
End Unit Storage: Make the most of your install length by adding end unit storage. It's a smart way to optimise your workspace.
Personalised Support: We offer one-to-one support tailored to your specific requirements. Connect with us via phone or send photos through our communication links on our site for a customised experience.
3D Design Renders:

After discussions and consultations, enjoy the added benefit of a 3D design render of your customised solution. Visualise your van's organisation before it becomes a reality.

Who Is It For? The Pro Unique Range is ideal for discerning trade professionals who demand unparalleled organisation and efficiency in their mobile workspace. Whether you're a contractor, plumber, electrician, builder, joiner, or just have a love for organisation, this van racking solution will elevate your work to new heights.

Experience Pro Unique Range: Invest in the Pro Unique Range and future-proof your van organisation. Say goodbye to clutter and hello to unmatched productivity. Elevate your van, elevate your work – choose the Pro Unique Range today.

To secure your slot for 2023, you need to pay a £100 non-refundable deposit. This deposit will be deducted from the total cost of your install when we finalise the price. Remember, this offer is exclusively for the year 2023.

Look out for 2024 dates these will be available in December 2023.

After understanding the importance of meeting deadlines and ensuring customer installs are done correctly before the delivery of a new van or getting a current workhorse on the road, we have introduced a new service called the Unlimited booking service. In 2023, we have a limited capacity of 40 slots available in 2023.

If you're interested in booking the Unlimited service, here's how it works:

1. We will first design your order and discuss the details with you, including the pricing. Simply fill out a contact us form and a team member will follow up with a call to discuss, or if you provide enough details we will come up with a rough design for you to take a look at and discuss your further needs. Please let us know you are interested in the Unlimited install.
2. Once you've received the 3D render and confirmed design we issue a price|quote, you can then secure a date slot by choosing your preferred date from the available options.These can change daily so book as soon as possible to help with any disappointments. We aim for delivery in the same week of manufacture, if you have a larger more technical install or custom colours, times scales and an alternate delivery date may be discussed. Please ask our members of staff for more information prior to booking, or better still let us do this over the phone for you. 
3. We allocate one full week or 5 days, weekends no included, to build your install and get it ready for shipping out.

4. We have a standard delivery is 3 days no additional charge. If it's required sooner we have cost effective upgrade delivery options, this will be discussed once ready to ship.